Our Wedding Car Service
Christophers Bridal and wedding car hire service provide wedding cars for weddings in the West Berkshire area including Thatcham, Newbury, Donnington, Hungerford and Kingsclere.
Based in Reading, Berkshire we have been providing a high quality wedding car hire service for over 22 years and are pleased to offer a unique range of chauffeur driven weddings cars for your special day.
We offer a flexible service based on your itinerary, with no unreasonable time limits to complete the booking.
Our Classic & Vintage Style Wedding Car Hire Service
Our range of classic and vintage style cars include Badsworth, Royale Windsor, Jaguar Drophead Bentley S3 and Jaguar Mk2 and will seat up to 4 passengers.
If you require a larger vehicle then please take a look at our Bramwith, Viscount and Imperial Limousines. These wedding cars will transport up to 7 passengers in some style, with ample space to accommodate the Brides dress and plenty of leg room to stretch out and be comfortable on route to the Church, Hotel or Venue.
We can supply cars for Church, Civil weddings, Civil Partnerships and Asian Weddings of all types. We can even arrange transportation for the Bride and Groom or partners from their reception to a local hotel at the end of the evening when booking one of our cars for the main wedding event.
Below is our superb 1964 Bentley S3 with Tudor Grey over Shell Silver Coachwork. This car has undergone extensive restoration and is presented in pristine condition and ideal if you are planning a traditional English wedding.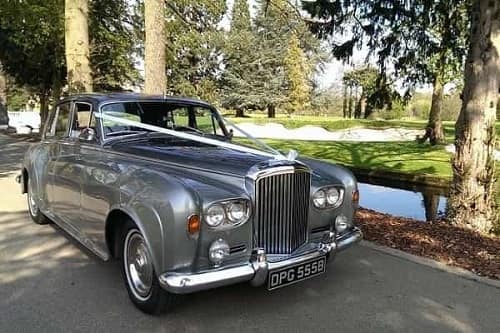 View Our Cars
You can view all the cars by selecting View Cars at the top of each page.
Useful Links